Find a Job
We are looking for smart, driven people who are committed to growing the company and themselves. LS&Co. is an AA/EEO/ADA employer and is committed to the principles of diversity and inclusion. Minorities, females, people with disabilities and veterans are highly encouraged to apply within.

All Job Openings — Global
Use the job-search tool below to find our current openings around the globe.
Working at Levi Strauss & Co.
At LS&Co., our talented employees are part of a creative international community eager to shape, grow and transform our iconic global brands. They are market-driven, results-oriented and hard working. Our employees flourish in LS&Co.'s diverse and enriching workplace culture, which is guided by strong values, innovation, sustainable practices and community involvement around the world.
TEAM OVERVIEWS
Commercial Operations

-

The function that brings LS&Co.'s brands to market. Through our wholesale customers, Commercial Operations facilitates more consumer touch points than any other part of our organization. As the execution arm of the brands, Commercial Operations takes the brand vision and executes it for consumers shopping in the wholesale channel. In Asia, Middle East and Africa, the Commercial Operations team executes this work for the retail channel as well.

Corporate Affairs

+

Corporate Affairs tells the LS&Co. story. And there are lots of stories to tell — about our brands, our consumers, our employees, our social and community outreach, our heritage, our future. Taken together, these stories build the reputation of a unique and authentic company among ever-new generations of fans around the world.

Design

+

LS&Co. invented the blue jean and revolutionized the way the world dresses. Our globally acclaimed brands were founded on original designs that stand the test of time. Today, our designers continue to push creative boundaries through the use of industry-leading, socially aware technologies and design expertise to create innovative and relevant products.

Finance

+

The backbone of the company's financial controls, Finance upholds the integrity of LS&Co.'s global financial operations through shared services and standard global processes, including accounting, financial reporting, forecasting and budgeting, treasury and credit, cash management, foreign exchange, strategic planning, and tax planning and compliance.

Human Resources

+

LS&Co. HR is all about attracting, developing and retaining the top talent in our industry. How? By building a culture of ownership, high-performance and pride in which our colleagues can thrive — for both individual and company success. Talent and performance management, best-in-class rewards and systems, top-notch organizational design and a goal of becoming the best HR function in the apparel industry fuel HR's transformative role in the company.

IT

+

LS&Co.'s Information Services & Technology team provides the hardware and software solutions that employees use to do their jobs every day in locations around the world. It's all about giving LS&Co. a competitive edge — with improved products and technologies that enable and protect business performance. Millions of transactions each month drive sales, product orders, productivity, creativity and much more.

Legal

+

LS&Co.'s global team of legal experts sorts through today's complex regulatory and legal issues around the world to help the company achieve its strategic goals. The team provides counsel and advocacy while managing legal, security, employment, compliance and reputational risk.

Marketing

+

Marketing connects consumers with our brands. The team develops promotional product campaigns across all mediums: digital, in-store and advertising. Together with Public Relations, Visual Merchandising and Creative Services, Marketing drives a cohesive and inspiring consumer experience, regionally and globally.

Merchandising

+

Merchandising is balancing the art and science of bringing a product concept or creative intent to life. This team creates an assortment that speaks to the consumer and commercializes innovation and trends. Business and Brand success is measured by how well a merchant can plan, manage, communicate and execute creative intent.

Planning & Allocation

+

Our Planning and Allocation teams lead the effort to optimize sales and profitability through rigorous planning and analysis of retail performance and management of inventory productivity. These teams are responsible for developing and driving strategy and future business processes by developing key relationships with cross-functional partners. If you have a solid history of implementing growth strategies and initiatives in a dynamic setting, strong negotiation and influence skills and experience managing and leading teams, this could be the team for you!

Product Development & Sourcing

+

It all comes down to product. Product Development & Sourcing (PD&S) works to create the most innovative and relevant products that our consumers know and love. Through a global network of suppliers, manufacturers and employees throughout the world, the PD&S team works to deliver the products that the business requires "at the right cost, at the right time." PD&S puts our company values for responsible sourcing and manufacturing into every product we create.

Retail

+

Global Retail is transforming LS&Co. into a world-class, omni-channel retailer that delivers an authentic and compelling consumer experience across the globe. Through industry-leading learning experiences such as Denim Leadership, our stylists and other retail talent hone their skills in a culture of innovation and excellence across our franchise operations, company-owned stores and e-commerce sites. Retail consists of all 2,800 owned and operated, brick and mortar stores and e-commerce, dedicated to selling products from LS&Co. brands. Our Retail stores bring our brands to life for our consumers, creating true 360-degree brand experiences all built around the strength of our product.
Benefits
Our portfolio of benefits, programs and services is designed to make sure our employees are healthy and comfortable, while encouraging creativity inside and outside of the office. Here are a few of the highlights of working at Levi Strauss & Co.:
EMPLOYEE BENEFITS
HEALTH AND FITNESS: LS&Co. offers competitive benefit options and a flexible plan design. Employees can handpick medical, dental, vision and life insurance plans that are right for them.
APPAREL: Corporate employees receive a discount at all company owned- and-operated stores and e-commerce sites. They may also purchase Levi's®, Dockers® and Signature by Levi Strauss & Co.™ apparel at a significant discount at periodic sample sales.
TECHNOLOGY AND BUSINESS SERVICES: Employees are eligible for discounts on technology products (varies by region).
EMPLOYEE AWARDS & RECOGNITION
EXCELLENCE AWARD: Awarded annually to "best in class" employees in each of our three regions, the Excellence Award honors employees and teams who champion our company's vision, while contributing to our strategic and annual operating plans.
WORLDWIDE KOSHLAND AWARD: The Koshland Award is the highest honor employees can receive and recognizes the most outstanding performance worldwide, as decided by the company's senior leaders.
EMPLOYEES & THE COMMUNITY
COMMUNITY INVOLVEMENT TEAMS: Levi Strauss & Co. and the Levi Strauss Foundation support employee volunteerism and grant-making in the communities where we work. For U.S. based employees, financial contributions of up to $2,000 per year, made to eligible non-profits, are matched dollar for dollar by the Levi Strauss Foundation. Worldwide, our employees engage in Community Involvement Teams that partner with local charitable organizations to identify needs, plan activities and create volunteer and donation opportunities, in addition to partaking in our annual Community Day event.
PAID VOLUNTEER TIME: With manager approval, full-time, salaried employees in the U.S. may schedule up to five hours per month of paid time away from the office to volunteer at a nonprofit organization of their choice.
RED TAB FOUNDATION: The Red Tab Foundation isn't a benefit of employment at Levi Strauss & Co. Rather, it is an independent non-profit organization that assists Levi Strauss employees, retirees and their families facing extreme financial difficulties. Additionally, the Red Tab Foundation provides educational programs and services to help people learn how to develop spending and savings plans and to manage credit card debt.
Global Workplaces
Levi Strauss & Co. is a well-established global business. We operate in 110 countries, and approximately half of our net revenues come from outside the United States.
Our success in creating truly global distribution of our products is largely due to our track record of responsible business practices. In addition, LS&Co.'s commitment to local communities has helped build a brand that people love and trust.
As we continue to expand internationally, our goal is to operate in accordance with our values wherever we source our materials or manufacture and sell our clothes. We are excited about the global possibilities for LS&Co. Our presence in the United States, Canada, Western Europe and Japan is well established. In the years ahead, our goal is to expand our brands in India, China, Russia, Brazil and other emerging markets.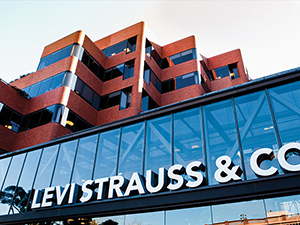 AMERICAS
Operating from our San Francisco headquarters, Levi Strauss Americas includes four distinct businesses: Levi Strauss U.S., Levi Strauss Canada, Levi Strauss Mexico and Levi Strauss Latin America.
Our products are manufactured, distributed and sold through the Americas region.
Levi Strauss & Co. Corporate and Americas Headquarters
1155 Battery Street
San Francisco, CA 94111
U.S.A.
Tel: (415) 501-6000
Fax: (415) 501-7112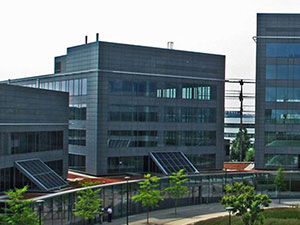 EUROPE
Our European headquarters are in Brussels. Across the region, we gave nine sales offices, six distribution centers and three production facilities.
Our Levi's® and Dockers® brand products are marketed and sold throughout the region.
Levi Strauss Europe
Airport Plaza
Rio Building
Leonardo Da Vincilaan 19
1831 Diegem
Belgium
Tel: (32-2) 641-6011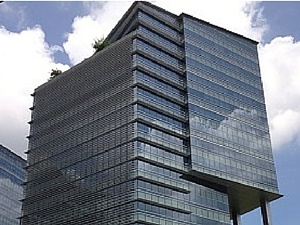 ASIA, MIDDLE EAST & AFRICA

Our Asia, Middle East & Africa Division was established in 1995 with headquarters in Singapore. This division includes subsidiary businesses, licensees and distributors. Our fact sheet contains more facts and figures about this region.
For detailed information in Japanese about Levi Strauss Japan K.K., please visit the Levi Strauss Japan investor relations site.
Levi Strauss & Co. Asia Pacific Division Headquarters
11 North Buona Vista Drive
#14-08 Metropolis Tower 2
Singapore 138589
Tel: (65) 6735-9303
Internships
Here at Levi Strauss & Co., we're looking for the next generation of original thinkers. Curiosity, courage, creativity, collaboration, determination — that's what it took when we created the first pair of jeans back in 1873, and those are the attributes that continue to drive us forward. Internships help us grow and inspire our businesses.
Our internship program is designed to be a great immersive and collaborative introduction to our company; interns get the chance to work at one of the world's most exciting brands and we get to learn about a new generation of aspiring leaders.
OPPORTUNITIES
Our 10-week Summer Internship Program is an ideal way for both undergrad and graduate students to gain work experience within the core of our organization while learning what a career at LS&Co. can offer. Interns spend the summer at our San Francisco headquarters, where they receive real-world exposure to one of the world's leading fashion and apparel companies. Interns will also have the chance to immerse themselves in all aspects of our global business — from visiting stores, to learning from our brand and business leaders, to exploring different career paths, and working with fellow interns on projects that address critical business initiatives.
SUMMER INTERNSHIP APPLICATIONS
We are now accepting applications for Summer 2019. Undergraduate and graduate internship roles available in merchandising, marketing, ecommerce, and more! Please click here to search openings.

Note: LS&Co. recruiting staff and related agents vet all job candidates through a thorough screening and interview process that will always include a verbal conversation with a recruiter. At no time will we ever ask you to provide personal financial or banking information. If you suspect fraudulent activity, please immediately notify our Customer Service (U.S.), 1 (800) 872-5384, or contact law enforcement to report the fraudulent conduct.