Message from the CEO
This is an exciting time for Levi Strauss & Co. We're building on our heritage to move the company forward, to be as innovative and relevant to today's consumers — and tomorrow's — as we were when we invented the blue jean 140 years ago.
When did you first discover one of our products? Millions of people around the world have grown up with Levi's® blue jeans and Dockers® khakis. I'm one of them. And it's my privilege to lead this company as we strive to engage consumers with new and familiar products, all while minimizing our impact on the planet.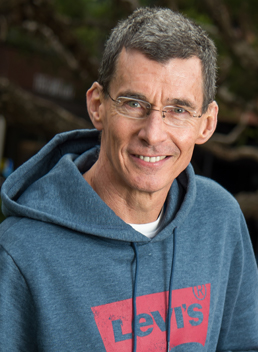 But it takes more than our strong, enduring brands — which also include Signature by Levi Strauss & Co.™ and Denizen® — to succeed. It takes people to bring our product to life every day. I see these talented and creative folks at our headquarters in San Francisco and in our offices around the world. They're proud to be here, working for a company that has long been a leader — not just in what we do, but how we do it.This is a company that integrated its sewing factories decades before it was required by law. We established the first code of conduct for apparel manufacturers, ensuring the people who make our product work in a safe environment and are treated with dignity and respect. And we work to build sustainability into everything we do.Ask an employee what makes this company different, and they'll tell you. It's our values: empathy, originality, integrity and courage. These guide every decision we make and every action we take. And they fuel our commitment to drive profits through principles.

It takes talented and creative people to bring our product to life every day, all around the world.

Today's Levi Strauss & Co. is as relevant as ever, but we're always looking ahead. From our products to our practices, innovation is integral. You'll see it in our Levi's® Water<Less™ products, which are made using significantly less water. In our Dockers® Wellthread collection, sustainability is as essential as fabric and thread. And there's more on the way.I'm honored to be a part of Levi Strauss & Co. and humbled to have the opportunity to lead this company as it continues an amazing journey. If you're already a fan of our products, thank you. If not, I hope you'll take some time to explore this site and learn more about what we do and how we do it. I think you'll like what you see. – CHIP BERGH President & CEO
Brands
Our brands are among the most celebrated names in the history of apparel. They are recognized for their quality, originality and integrity.
Levi's®
Dockers®
Levi Strauss & Co.™
Denizen®
Levi Strauss & Co. Culture
The culture of Levi Strauss & Co. is fueled by strong values, creativity and hard work. Using innovative, sustainable and progressive practices isn't just how we make our jeans and other products, it's a principle we value in all of our work.
Here's a first hand glimpse of the culture thriving at the core of Levi Strauss & Co.
Innovation is at the core of what we do. From inventing the world's first pair of blue jeans, to implementing cutting-edge design techniques, to developing new ways of working, we encourage our talented employees — and anyone who slips on a pair of our jeans — to dream big, do more and grow.
We care deeply about doing the right thing. It's why we're working to build sustainability into everything we do. It's why we joined the Better Cotton Initiative, which is committed to growing cotton in a way that's healthier for communities and the environment. It's why we're producing Water<Less™ jeans, made with significantly less water. We want to make sure our company is encouraging a healthy world and a better future.
At Levi Strauss & Co., we're dedicated to progress and are constantly in motion. We're proud to have integrated our factories before the law required it, and we continue to engage with communities whenever we can, from implementing HIV/AIDS employee education, to championing equality for women and girls, to supporting communities around the world where we live and work.
The Red Tab Foundation, an industry first, was started by a Levi Strauss & Co. employee to provide a financial safety net for company employees, retiree and their families.
Since 1873, our jeans have been an inspiration — and a symbol — for courage, fearless exploration and unwavering originality. We are honored to have clothed generations of individuals, leaders, thinkers and doers. Here at Levi Strauss & Co., we're guided by our values: empathy, originality, integrity and courage. With them in mind, we constantly strive to build a culture just as inspiring as the people who wear our jeans.
Leadership
Our worldwide leadership team, which includes the CEO and 10 executives, sets the company's overall direction and is responsible for all major strategic, financial and operational decisions.
We pride ourselves on growing talent from within, and many of our senior-most leaders have risen through the company ranks over the past two or three decades. To maintain our lead in the fast-changing fashion industry, our leadership team also includes executives who bring leading-edge expertise and new ideas from other industries and consumer companies.
In the Community
Levi Strauss & Co. is committed to supporting and educating communities across the globe by building stronger relationships through funding, volunteering and education for a better, healthier and more sustainable world.
Recognition
Our efforts to help solve the most critical issues facing society — HIV/AIDS, equality, worker rights — have been recognized far and wide, as has our commitment to caring for the communities in which we live and work.
CSR / SUSTAINABILITY
Global Citizen Award for Improving Workers' Well Being Program from the Silicon Valley Community Foundation (2013)
San Francisco Business Times Corporate Philanthropy Awards — Community Commitment Award (2012)
Treehugger Best of Green Awards — Best Jeans: Levi's® Water<Less® (2011)
GoodGuide Apparel Rankings — Levi's: Number One in Jeans Category (2011)
San Francisco Business Times Green Business of the Year Award — Large Company (2009)
Catholic Charities CYO Loaves & Fishes Outstanding Corporate Philanthropy Award (2008)
WORKER RIGHTS
HIV/AIDS Employer Roundtable for U.S. Department of Labor — Shared best practices on employer-based HIV/AIDS programs (2011)
India Conference on HIV/AIDS and Insurance — Invited panelist and only global employer to present our Employee HIV/AIDS Benefit Plan:  HIV/AIDS and Insurance (2011)
U.N. Global Compact and the U.N. Millenium Development Goals at University of Notre Dame — Invited panelist to present HIV/AIDS workplace initiatives and insurance linkages (2011)
Office of National AIDS Policy — Private Sector HIV/AIDS Programs Leader, presented employer HIV/AIDS issues and lessons from Employee HIV/AIDS Program (2010)
 World of Work at Global Health Benefits Institute — Invited to present Employee HIV/AIDS Program, ILO Recommendations on HIV/AIDS (2010)
EQUALITY
Human Rights Campaign Best Places to Work for Lesbian, Gay and Transgender Employees (2014)
The Trevor Project — Trevor Hope Award (2010)
California Hall of Fame for History, Women and the Arts — Induction to the California Hall of Fame for embodying the spirit of California (2010)
San Francisco LGBT Community Center — Impact Award (2009)
Out & Equal Courage Award (2009)
The Global Business Coalition on HIV/AIDS, Tuberculosis and Malaria — Business Excellent Award — Women and Girls Category (2008)
MARKETING & CREATIVE
One Show — "Portraits of Braddock" — Gold Pencil Winner for Documentary (2011)
One Show — "Portraits of Braddock" — Merit Winner for Online Branded Entertainment Campaign (2011)
Magic — Best in Show — Dockers® Visual Display (2010)
ADDY — Dockers® Newspaper Campaign — for Print (2010)
GLAAD — "Outstanding Advertising — Electronic" for Levi's brand "Unbuttoned" campaign, partnership with LOGO (2010)
HIV/AIDS
Kaiser Permanente Red Ribbon Community Service Award — for Improving Access to HIV/AIDS Services (2010)
Ubuntu South African Advertising Award — Levi Strauss South Africa Red for Life Campaign against HIV/AIDS (2010)
Corporate Sector on HIV/AIDS Leader 2010 — Invited to witness President Obama signing of National AIDS Strategy (2010)
The Global Business Coalition on HIV/AIDS, Tuberculosis and Malaria — Leadership Award (2009)
Our Partners in Progress
PUBLIC POLICY
Levi Strauss & Co.'s policy and advocacy team engages policymakers and promotes initiatives that align with our business strategy, corporate values and  commitment to sustainability. We take an active role discussing international trade, labor, environmental sustainability, nondiscrimination and other regulatory matters with governments around the world. We also cultivate relationships with multilateral institutions such as the International Labor Organization (ILO), United Nations, World Trade Organization and World Bank, as well as with nongovernmental organizations (NGOs), trade associations and other stakeholders.
EQUALITY
As a company with a long history of standing up for equality, civil rights and social justice, we take a leadership role in advancing public policy initiatives in support of nondiscrimination and diversity in the workplace. We led efforts to support same-sex marriage in California and continue to advocate for passage of the Employment Non-Discrimination Act and the Tax Equity for Domestic Partner and Health Plan Beneficiaries Act at the federal level.
TRADE
As a result of our global reach — our products are sold in more than 100 countries and produced in about 35 — we manage a sophisticated supply chain involving numerous trade programs. We support trade policies that enhance the free flow of our goods globally and remain consistent with our labor and environmental values.
WORKER RIGHTS
We leverage the power of our trade relationships to strengthen implementation and enforcement of labor laws and workplace standards in countries where we have a business presence.
ENVIRONMENT
We work with global organizations, governments, NGOs and competitors to develop the next generation of apparel industry standards for using energy, water, chemicals and materials — all with an eye to restoring the health of our planet.
HIV/AIDS
We are proud of our long-standing leadership in fighting for improved access to HIV/AIDS prevention, testing, treatment and care, and in combating workplace discrimination against individuals diagnosed with HIV/AIDS.
ASSOCIATIONS & MEMBERSHIPS
Regional, Country and Local Business Organizations

-

Intellectual Property Rights

+

Governmental Advisory Group

+

Public Affairs

+

Social and Environmental Sustainability

+